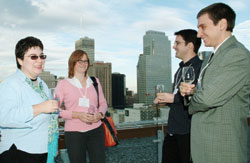 In the corporate world, managers understand that one of the main reasons staff leave is that they feel that their contributions are unacknowledged or that they are underappreciated. Arts and Science Dean David Graham knows that rewards may be different in the academic community, but people have the same reaction. "It's important to remain attentive to a process of recognition and reward for members of the community for whom I have some measure of responsibility," Dean Graham said in an interview over the summer. To that end, the first set of Dean's Awards will be presented on Oct. 17. The...
Concordia Journal online


The Concordia Journal appears every two weeks, but daily news is always available from News@Concordia

Leslie Markofsky, a prize-winning business student at Concordia, was one of the most gravely injured victims of the Dawson College shooting. He was visiting Dawson at the lunch hour on Sept. 13, when the shooting occurred. He remains in stable condition at the Montreal General Hospital. Leslie's sister Lauren is also a student here. Many members of the university have expressed their concern to the family. (See news.concordia.ca) Immediately after the shooting, the Concordia Student Union executive and Concordia staff sprang into action. Shuttle buses picked up students from the congested area outside Dawson's main entrance. Clothing and blankets were...