Spotlight on university teaching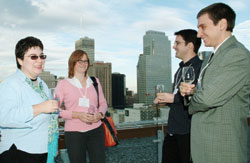 In the corporate world, managers understand that one of the main reasons staff leave is that they feel that their contributions are unacknowledged or that they are underappreciated.
Arts and Science Dean David Graham knows that rewards may be different in the academic community, but people have the same reaction.
"It's important to remain attentive to a process of recognition and reward for members of the community for whom I have some measure of responsibility," Dean Graham said in an interview over the summer.
To that end, the first set of Dean's Awards will be presented on Oct. 17. The winning teachers are Svetla Kamenova (Études françaises), Sara Weinberg (Education) and Shannon McSheffrey (History).
To avoid the appearance of a popularity contest, Dean Graham made student evaluations only part of the assessment. He enlisted Associate Dean of Academic Programs Joanne Locke to accept nominations for the awards.
"This is the first time that I know of that Arts and Science has recognized teaching through Dean's Awards," Locke said. Teaching excellence is one of the four categories of awards available to faculty. The other three are outstanding scholarship, service and an award reserved for new scholars. There is also a staff award in recognition of "exceptional service to the faculty."
Locke was part of a committee with three department chairs, each representing one part of the faculty: sciences, social sciences and humanities. All four received the full dossiers of all nominated candidates well before they met.
Locke credits that preparation with facilitating what could have been an impossible task: comparing teaching chemistry with teaching communications or calculus.
"We knew the files going in, and after having identified the criteria, we found we were really in agreement" on how to judge candidates, Locke said.
Overall, she was impressed with the quality of candidates. Together with the committee, she expects to develop more consistent guidelines for preparing dossiers in the future.
Dean Graham sees this as part of a larger initiative to ensure that Concordia's community is recognized on the national and international levels.
For instance, while the national 3M Teaching Awards are based on a variety of factors, "a key piece of evidence includes previous recognition at the institutional level." Previous 3M teaching fellowship winner and current program coordinator Arshad Ahmad is a professor here at the John Molson School of Business.
Each of the Dean's Award winners will receive a certificate and $500 for research or professional development.
TEACHING EXCELLENCE
Our mission "to develop and disseminate knowledge and values" can only be accomplished through our teachers. For more on teaching, click here.