Students in the spotlight at MBA Case Competition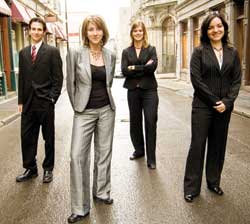 Most of us get back into gear slowly after the holidays, but those involved in the John Molson School of Business's annual International MBA Case Competition have to hit the ground running.
"The students really are the stars of the show," said Klaus Kepper, who has been a judge for the competition since 1989 except for the years he spent in Europe. He is currently on the advisory board.
The competition, Jan. 8 - 13, is now in its 26th year, and brings together 36 teams of MBA students from around the world. Each team can have up to 10 members when alternates and coaches are included. They arrive eager to face off and learn from each other.
J. Pierre Brunet was a judge in the competition's first year. "Back then, professors were judges." Now retired from the JMSB (he teaches one EMBA course) he sits on the advisory board and is responsible for briefing the judges. His contribution was recognized last year when the first J. Pierre Brunet Coaching Award was given.
The opportunity for MBA students from Beijing, Bangalore, Dusseldorf and across North America to interact is key for Brunet. "They can talk to each other and see how they think."
Brunet said this can make for interesting contests when differing philosophies collide. "Some teams are really capitalist and say 'This has to happen and this guy makes the decision.' Other teams are far more democratic and socially inclined."
Since he knows that the responses to any given problem can cover a range of perspectives, he has to make sure that the judges are briefed well enough to be able to evaluate wildly different solutions.
James Cherry, President and CEO of Aéroports de Montreal, looks forward to judging the event every year. "It exposes the students to real business thinking."
The logistics are overwhelming from every vantage point. The student organizers (see photo) coordinate the schedules of hundreds of judges, all of whom are senior local business people. They need a venue with enough meeting rooms for numerous simultaneous cases. This year's competition is at the Hilton Bonaventure Hotel.
"The organizers are responsible for spending a quarter of a million dollars in five days," Brunet said. The students are ultimately responsible for all of the arrangements for the event, everything from menus to sponsors. Kepper sees the advisory board's role as providing consistency from year to year and helping the organizers stay focused. He also continues to judge two or three cases each year.
The organizers ensure that the cases the students work on are of a sufficiently high calibre for the event and are brand new problems that students would not have faced before.