Concordia to host Humanities and Social Sciences 2010 Congress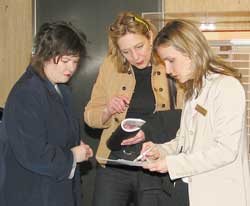 Concordia has been chosen to hold the Congress of the Humanities and Social Sciences in 2010. It will be an exciting project and a first for the university, taking it up another notch as a respected national institution.
The Congress, which used to be known as The Learneds (as in learned societies), is held annually, and the one at Concordia will be the 79th edition. Judging by last year's Congress at York University, it will attract about 9,000 delegates. The Congress comes under the aegis of the Canadian Federation for the Humanities and Social Sciences (CFHSS).
Last month Marianne Fizet, the director of the Congress, and Jody Ciufo, the CFHSS executive director, toured Concordia and met with some senior administrators and key service providers. They were impressed by what they saw.
Fizet said, "We look for enthusiasm and an unequivocal commitment from the entire university community as well as the local community to making the Congress a true celebration of knowledge and a meeting of minds."
In more practical terms, they look for enough meeting spaces; up to 200 rooms will be required concurrently on a peak day. There must be a central location to accommodate registration, tables for the constituent societies and a book fair, a minimum of 20,000 square feet. Concordia has not bid to host the congress before, likely because it simply didn't have the space.
"Particularly attractive is Concordia's location right in the heart of Montreal. Some of the new buildings and meetings facilities (including the JMSB Building currently under construction) are absolutely stunning," Fizet said enthusiastically in an email from Ottawa.
"The DeSève Cinema, with all it has to offer in terms of screening facilities, looked like an outstanding venue to stage events impossible to conceive elsewhere. The prospect of the Grey Nuns Motherhouse being partly converted into a residence and accommodating some of our delegates is exciting, too."
Participants must be able to get to the venue easily, have a variety of accommodation options, and interesting venues for social events, none of which pose a problem in Montreal.
Asked for the next steps in Concordia's preparations, Fizet said, "The appointment of a suitable convenor to be the key contact between the university's administration, its community, its service providers and the Federation is vital."
A logistics coordinator should be appointed early, and work full-time during the year leading up to the Congress. "Having some key service providers and the coordinator attend Congresses and planning meetings between now and 2010 would be a wise investment."
In return for this investment of time and energy, Concordia will likely gain a great deal of prestige. "The Congress is unequalled, to our knowledge, in that it brings together over 70 disciplines under the same roof," Fizet said.
"The worldwide exposure that the university receives is tremendous. It gives you the opportunity to showcase your campus, your research facilities, your programs and researchers, to young and old, established and new academics from across North America and beyond. Putting you on the map may assist you in the recruitment of new faculty and graduate students."