Sandra-Lynn Spina named to senior post in the Office of the President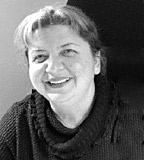 Sandra-Lynn Spina has been named Director of Administration, Office of the President, as of May 7.
Reporting to Chief of Staff Jonathan Levinson, Spina's new responsibilities include recruitment, supervision and coordination of the Office of the President's staff, maintaining close working relationships with other constituencies, overseeing student and personnel issues ranging from complaints and appeals to grievance and arbitration dossiers, and representing the President's Office on various committees and working groups.
"I am very pleased to welcome Sandra to her new position," said President Lajeunesse. "Her experience, integrity, enthusiasm and profound commitment to Concordia are well known and well respected. She will be a valuable addition to our team."
Spina joins the Office of the President from University Advancement and Alumni Relations, where she has served as Director of Communications since February 2006. Prior to that, she had been Director of Marketing Communications since 1997. She is a Concordia graduate (BA 1990) and has worked at the university for 30 years.
She replaces Enza De Cubellis, who is joining the Enrolment and Student Services Team in support of ongoing internal reviews of recruitment and admissions functions as well as other strategic and operational analysis initiatives. De Cubellis will report to Roger Côté, Associate Vice-President for Enrolment and Student Services.