Topological media lab catches fire with kids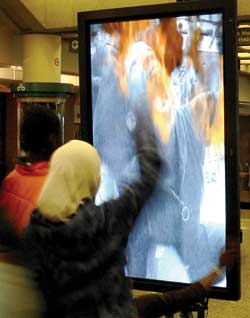 Researchers Harry Smoak, Freida Abtan and Erik Conrad, of Concordia's Topological Media Lab, recently fired up the 10th edition of Journées de la culture inside Place des Arts' Hall des Pas perdus.
The lab's project, Firewall Responsive Video Installation, combined camera-based motion tracking, gesture-oriented programming software and a computer vision camera to fiery effect. At a special presentation for schools on Sept. 29, the children flocked to it like mosquitoes to floodlights as their teachers struggled to maintain order.
A camera sends a live feed of the participants onto a large LCD screen. It then digitizes the feed in real time, while the software synthesizes all movements into virtual bursts of flames. Any sudden movements by the participant created the on-screen illusion that they have caught fire.
"We work from an artistic and poetic perspective, even if we use very technical equipment," said lab research coordinator Smoak, who likens the project's output to delicate calligraphy.
Whispers and abstract sounds triggered digitally through participatory movement added interesting texture through surrounding speakers.
The Topological Media Lab is the brainchild of Sha Xin Wei. He formed the lab in 2001 while he was working at Atlanta's Georgia Institute of Technology. It unites researchers from anthropological, literary, architectural, studio art, and computer science backgrounds to study the phenomenology of performance and build events that have cultural value.
Sha is now Canada Research Chair in Media Arts and Sciences and associate professor in Fine Arts and Computer Science at Concordia. He brought the lab from Georgia Tech in 2005 through Concordia's Hexagram research program, which houses over 75 artist/researchers and more than 350 graduate studies working together in media arts and technology.