Shuffle 2006 raises $44,000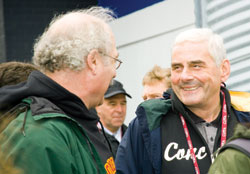 In a way, the weather was perfect for the 17th annual Shuffle — not too hot, not too cold, and no sunburn, either.
About 600 Concordians spent the afternoon of Sept. 29 walking, running, cycling and skating from the downtown to the west-end campus to raise at least $44,000 for scholarships.
The prizes raffled to particpating shufflers were fewer but bigger this year. Many of the prizes were for short stays in hotels in a number of cities, including Calgary. The grand prize winners were Nancy Bennen. Catherine Rideout and Paul Eifert. Other hotel prize winners were Jian Y. Jiao, Jane Nadeau Morel, Nancy Acemian, Caleb Reznick, Terry Too, Germaine Chan, Eric Goldner and Lynn Roy. For all winners, go to shuffle.concordia.ca
A number of awards were given to the deserving: The Spirit Award was won by Mary Melnyk, from Financial Services. The Award for Most Flamboyant Shufflers went to the gang from the Office of the Provost, led by Martin Singer. They had their own special T-shirts, as did the past winners from Engineering and Computer Science.
More photos are posted on News@Concordia