Lost art inspires show at FOFA Gallery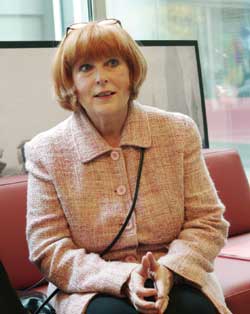 The current exhibition in the FOFA Gallery opened with only one actual painting, loaned for the occasion; the exhibit proper is of representations of missing works. Auktion 392 is a striking statement about the fate of a generation of Jews whose valuable art collections were wrested from them by the Nazis.
Professor Catherine MacKenzie and a group of art history students mounted the show. Its subtitle is Reclaiming the Galerie Stern, Düsseldorf, a reference to the forced liquidation of Max Stern's gallery in Germany on Nov. 13, 1937. The scale reproductions on the FOFA Gallery walls are of individual works that were auctioned off then and have not yet been recovered by Stern's estate.
The MA students — Alexandra Anber, Katie Apsey, Andria Hickey, Sharon Murray, Kimberlie Robert, Marsha Taichman and Erandy Vergara Vargas — immersed themselves in that turbulent era, writing some of the catalogue entries. FOFA Gallery director Lynn Beavis coordinated and Andrew Elvish designed the exhibition.
MacKenzie wrote an essay for the catalogue that evokes the extraordinary atmosphere in which European Jews who practiced and supported the arts out of all proportion to their numbers were virtually wiped out of history. She describes the nature of the Stern gallery holdings, which were rather conservative in style, but typical of so many of the galleries that were forced to close during the Nazi era.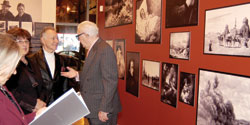 Stern, who had inherited the gallery from his father, moved to Montreal and started again, becoming one of contemporary Canadian art's most influential figures. When he died in 1987, he left most of his assets to Concordia, McGill and the Hebrew University of Jerusalem. In the course of its involvement in the dispersal of this work, led by Special Projects Director Clarence Epstein, Concordia has become active in the effort to recover art lost by Stern and others during the Nazi era.
The real painting in Auktion 392 is one of those lost by Stern so many years ago. A sweetly romantic 19th-century French work called Aimée, a Young Egyptian, it was unexpectedly given back to the Stern estate by Sotheby's auction house, which sold it at auction five years ago for approximately $100,000 and subsequently discovered its Stern provenance.
The unveiling of the painting at Concordia on Oct. 19 received wide media coverage in and beyond Montreal. Renewed interest in Nazi-era art restitution was the subject of a riveting lecture that evening by Willi Korte, a German lawyer and historian who has become the international expert on the subject and the Stern project's principal investigator.
Dr. Korte told a rapt audience enough anecdotes to fuel several Hollywood movies. In one, he described how a photo in the New York Times led to a frantic effort to stop a painting on loan to the Museum of Modern Art from going back to Austria, where it would be legally impossible to recover. U.S. laws and law enforcement agencies are more supportive of claims than those in Austria, where he has faced challenges.
The great international auction houses of Christie's and Sotheby's were active sponsors of the Oct. 19 events, as well as the Auktion 392 exhibition and publication, an indication of the leadership of Concordia and the success of Korte and a small number of others, largely American Jews, in reviving what was for several decades considered a dead issue.
Korte and American restitutions legal specialist Thomas R. Kline, of the Washington firm Andrews Kurth LLP, also went to a gathering of art history faculty and students, where they were peppered with questions. Korte's visit to Montreal was part of the ninth annual educational series sponsored by the Montreal Holocaust Memorial Centre, which continues until Nov. 9. For more information, please go to www.mhmc.ca or www.auktion392.com.